Welcome
Since 1998, we have been an indispensable mobile DJ and entertainment directory for hundreds of corporate and private events throughout Luxembourg, France, Belgium and Germany.
We are specialized in wedding, birthday, anniversary, private and company parties.
From mild to wild – from casual to elegant
Our Experience
We develop a keen understanding of our audience, and are constantly monitoring the crowd's reaction, so we know exactly what to spin, how loud, and when to use the mic. We can announce your event in Luxembourgish, French, German or English.
We look forward to helping you and your guests shine on the big stage of your special celebration.
Because your celebration deserves only the best, we utilize only professional grade sound equipment. We use HK Audio Systems, Pioneer Pro CD Players, Shure Wireless Microphones, Apple Computer, lighting effects that dance to the rhythm of the music!
So we can make your event special !
Party
Birthdays, Anniversaries, Community Events, Company and Private Parties … From a private party to a 80th anniversary … with many songs for every occasion, we're able to play just about any request. In fact, we prefer to play what guests want to hear.
From Ceremony Music, Motown, Swing, Disco, Dance, Oldies, Rock-N-Roll, Classic Rock, Slow Songs, 70's Dance, 80's Dance, 90's Dance … something to please everyone!
You name it, we play it !
Wedding
If ever a day of your life deserves the finest entertainment, THIS IS IT !
Our more than 20 years of experience specializing in weddings, guarantees your reception will be perfect. We are happy to play all your music and we have the experience to create the right atmosphere for your special day.
Today, wedding receptions are composed of a large variety of ages and tastes, so we bring all our music to every event. Ranging from Wedding Background, Rock'n'Roll, Disco, 70's, 80's, 90's, Modern Rock, Ballroom Waltz, March, Tango, German, Latino and French. We are sure to have the best selection for you.
We'll provide the right atmosphere to keep your guests dancing all night long.
Pricing
Pricing varies depending on the type of event, location of the event, and duration of the event.
We offer unique custom packages
We review options with you. We explore possibilities and we tailor a solution that fits your expectations and budget perfectly.
About us
Your event DJs with more than 20 years of experience
Your partner in Luxembourg and in the grand region, Belgium, France and Germany
Large Music Library
Event Equipment for 300 guests (for bigger events please feel free to contact us !)
Your partner for Events, Weddings, Birthday and Anniversary Paties, Private and Company Parties, We can annonce your event in German, English, French or Luxembourgish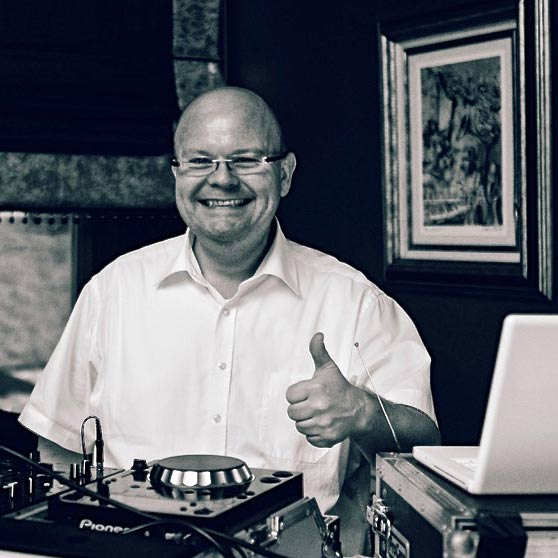 References
L'Orangerie, Mondorf-Les-Bains, Luxembourg
Les Thermes, Mondorf-Les-Bains, Luxembourg
Restaurant Steinmetz, Bech, Luxembourg
Hotel Double Tree by Hilton, Dommeldange, Luxembourg
Hotel Le Royal, Luxembourg, Luxembourg
Hotel Alvisse Parc Hotel, Dommeldange, Luxembourg
Restaurant A Guddesch, Beringen/Mersch, Luxembourg
Le Val du Scherbach, Bonnert, Belgium
Château du Bois d'Arlon, Arlon, Belgium
and many more …
Customer references
Creos Luxembourg
TMT Luxembourg
Fleurs Thielen
Goblet Lavandier & Associes
Adm. Communale de Weiler-la-Tour
Kiwanis Luxembourg
A Guddesch
Hotel Martha
Adm. Communale de Frisange
Labo Reunis
RCM Creations
HPPA Mamer
many more...
---